---
Real Estate Signs:
Even in an extremly digital world we find ourselves still in need of signage. This is particularly true in the real estate world. Signage is vital for real estate agents trying to sell their listed properties. Real Estate signs help identify that the big beautiful house that a prospective house buyer is looking at is listed by a particular agent from a particular brokerage. This is extremly valuable for multiple reasons.
It provides brand recognition for your real estate agency
It provides brand recognition for the real estate agenty themself
It provides a very clear understanding to the entire word that this big beautiful house is for sale
---
Tradeshow Real Estate Signs:
Below is a tradeshow display that we just finished up for Lima very own Ron Spencer Real Estate. It was a fun project and we were really pleased with the way it turned out. I mean we've all seen those really stale tradeshow booths with the 3 year old candy in a jar. This certainly is a breath of fresh air to that notion and provides a very organic welcoming feeling that makes you want to not only come and talk to those at the tradeshow booth but ultiately buy or sell my house with this agency.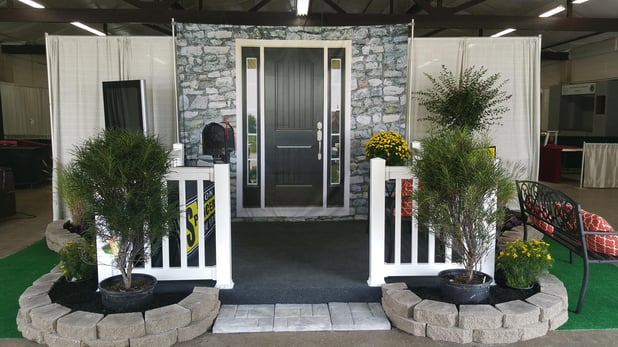 We believe that the way Ron Spencer Real Esate is shows how much they care about their image is a great quality to have in a real estate agency. I mean who do you want selling your house the people with this tradeshow booth or the ones with the really old candy?


Need some new real estate signs? Sign up for a free quote today!
---

More About Ron Spencer Real Estate:
Who We Are:

Ron Spencer Real Estate has been serving Western Ohio since 1975. With 3 offices in Lima, Wapakoneta & Delphos, with over 25 agents we are able to provide superior service to a 10 county area.

What We Do:

Ron Spencer Real Estate provides superior residential, farm & commercial brokerage services in Western Ohio. We also have a licensed Auctioneer for all of your auction needs. Our well trained sales staff is committed to excellence in determining and satisfying buyer and seller needs.

How We Do It:

Ron Spencer Real Estate uses our years of experience to take advantage of the most successful forms of promotion. Many tried and true methods still work – newspapers, home magazines, yard signs, Multiple Listing Systems. However, in this new electronic age we find our website provides better results for sellers and buyers. While we take advantage of these many opportunities, the personal contacts and referrals of our sales staff still give you the extra edge needed to reach a successful transaction.

Why We Do It:

Ron Spencer Real Estate believes real estate ownership can be a stabilizing factor for families and investors. Abraham Lincoln said, "Property is the fruit of labor, property is desirable, it is a positive good in the world." Families can find comfort and financial growth in homeownership. Investors have a safe venue for their investments. While real estate sales provides a source of income for our agents, the sense of pride in helping our clients attain financial stability carries even greater benefits for us.
---